How it all started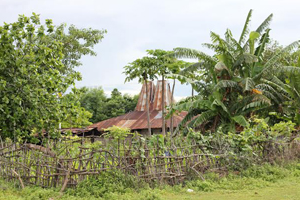 CHILDREN'S HOME HAMMU PANGIA
When Fien Wutun and Theo Vermeulen first visited Sumba more than 10 years ago, they were overwhelmed with the poverty and need for help. Together they decided to set up a children's home and they called it Hammu Pangia, which means 'happy and safe home' in bahasa Indonesia.
More children needed help and so they moved twice into a bigger home, simply to give more children a place to live. Three years ago they were able to move into the current location - a great house, with enough living space for the children as well as close to the schools and the main city of the island.
HEART FOR SUMBA FOUNDATION
When the children's home was growing, structural funding was needed. The Dutch foundation Heart For Sumba was set up to find sponsorships for the children and the various projects, such as the maintenance of the building, water supply and transport. Next to that, Heart For Sumba offers advice on various other topics, such as HRM and cooperation's with other non-profit organizations. The foundation works in close contact with the staff and founders of Hammu Pangia.
WHAT WE DO
A happy and safe home! That is what Hammu Pangia wants to offer to vulnerable Sumbanese children. In Hammu Pangia these children all become part of a big family, where they receive personal attention, food, clothing, health care and education within a family environment; but most of all they receive love, respect and hope for a better future. From the age of 6 all children go to school. After finishing their high school we offer them support in stretching their education to college or other advanced education. At the moment 3 former Hammu Pangia children are students (in either Bali or Flores). We are firm believers that education can break the poverty cycle.
You can help us do this by sponsoring a child or a project. It really makes all the difference.
Our people
The founders of Hammu Pangia, Fien Wutun and Theo Vermeulen, have become the ambassadors of Hammu Pangia and the Heart for Sumba Foundation. They support us with their knowledge and expertise, but also with their strong ties to the children's home and to Sumba. They dedicate a large amount of their time to Hammu Pangia and are there frequently. For the children, they are their 'Opa' and 'Oma' (grandfather and grandmother). It is because of their motivation, hard work, dedication, loyalty and entrepreneurship that children's home Hammu Pangia exists today in Waingapu Sumba, Indonesia's poorest island.
"Our goal is to bring future and hope to the poorest of Sumba by raising Sumbanese orphans and abandoned children in a family environment. We believe that in this family environment these children will receive warmth, respect, education and care which will increase their chances on a better future. The end goal is not only to give these children of Sumba a better future but also to give Sumba a modern, family home for Sumbanese children in need, run by the people of Sumba."