WHO WE ARE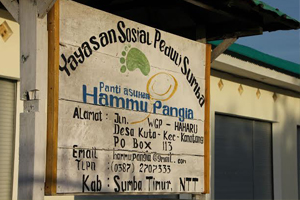 HEART FOR SUMBA
The Dutch foundation Heart For Sumba was set up to find sponsorships for the children of Hammu Pangia and the various projects at the children's home that need support, such as the maintenance of the building and water supply.
Next to that, Heart For Sumba offers advice on various other topics, such as HRM and cooperation's with other non-profit organizations. The foundation works in close contact with the staff and founders of Hammu Pangia.
HEART FOR SUMBA BOARD
Ngadia Theys, Selina Thurer, Jolijn Heine and Jan Willem de Geus set up HFS in 2014. They were already involved with the Hammu Pangia as advisers, but it was soon clear that there was much more needed than just advice. They do all their work in the spirit of the initial vision, values and objectives of the founders and in the best interest of the children.
The board members are contributing to Heart for Sumba pro bono – at no cost. None of their expenses are paid by the foundation. All funds raised by Heart for Sumba are entirely to the benefit of Hammu Pangia.
"We try to visit the children's home as frequent as we can. Although there is always a lot to do and organize, we make sure we have time to spend with the kids. It is so great to be around them, to see how they growing up in this somewhat very large family, where everybody has their chores but also their fun. For all of us it is clear that we want to dedicate time to make sure these kids are going to have a fair chance in life. We want to give them a safe and happy home. Next to that, we firmly believe in education and the way it can change lives. Not just for the persons themselves, but also for the people around them. That is why we are all so proud of the fact that all the kids are going to school and are doing well."
Ambassadors
The original founders of Hammu Pangia, Fien Wutun and Theo Vermeulen, have become the ambassadors of Hammu Pangia and the Heart for Sumba Foundation. They support us with their knowledge and expertise, but also with their strong ties to the children's home and to Sumba. They dedicate a large amount of their time to Hammu Pangia and are there frequently. For the children, they are their 'Opa' and 'Oma' (grandfather and grandmother). It is because of their motivation, hard work, dedication, loyalty and entrepreneurship that children's home Hammu Pangia exists today in Waingapu Sumba, Indonesia's poorest island.
"Our goal is to bring future and hope to the poorest of Sumba by raising Sumbanese orphans and abandoned children in a family environment. We believe that in this family environment these children will receive warmth, respect, education and care which will increase their chances on a better future. The end goal is not only to give these children of Sumba a better future but also to give Sumba a modern, family home for Sumbanese children in need, run by the people of Sumba."